Outflow
I have carefully drilled a hole trought the base of every plastik container. I use a cordless drill with metalboring drill bits. The hole must be smaller then the diameter of the rubber hose, in order to seal the hole leak-proof.
To trill big enough a hole you should start with small trill bits and gradually increase them in size. Also I often drill in reverse direction. You have to be more patient but the friction will melt a hole eventually. This way you make sure that the plastic will neither brake or tear. This can happen easily if you are not carefull.
Trough the hole a rubber hose is forced.
Now you have an drain but you have to take care the ants and dirt will not hinder the outflow of the water.




Overflow Protection
Every platic pod is has its own overflow protection.
It is a rubber hose tuck trough the wall of the basin.
It is just a supplementary outflow facility to avoid inundation if the other is obturated.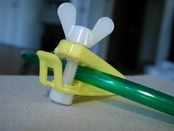 Fastened water
To regulate the water flow I use clips. I place them right under the reservoir. Then I let the water flow drop wise. I can control precisely the waterflow.

I want that each second one or two drops fall down.




The Pump
The pump can move water as high as 1.5 metres.
It is a small one and has to be placed directly in the water.
It pumps the water every 4 hours from the bottom reservoir to the top one.
I controle it by a timer. It is active for one minute at a time.
The pump must not run dry!